How to Dress for Your Body Shape?
Everyone eventually learns what looks good on them and which cuts and silhouettes they better steer clear from – but this happens through a lot of trial and error. Right now, the fashion world is immensely dynamic and changing rapidly. Trends we thought would never see the daylight again are crazy popular out in the streets and fashion runways. It's time you learn how to dress for your body shape in an organized clearer manner. Because trust us nothing is worse than seeing a cute dress on a store's window or a website thinking of a million ways to style it and then the dress sits like a jute sack on your figure.
Broadly speaking – there are four basic silhouettes and while beauty comes in all shapes and sizes, what looks killer on an hourglass figure would fall totally flat on a carrot-shaped body. It's pertinent to educate yourself on the basics of body shapes and what flatters each figure the most. This kind of styling intelligence would come handy next time you go shopping for new clothes.
Let's dig into this handy little guide on how to dress for your body shape, shall we?
Styling Tips for an Apple Shaped Body
If you have rounded shoulders and a heavier mid-riff with lean long legs, you have an apple-shaped figure. People with this silhouette tend to look rounder and heavier than they are if not dressed properly because the upper rounder body makes the entire figure look heavier. You need to style in a way that emphasizes your lean legs and don cuts and covers that flatter the heavy mid-riff.
When it comes to picking dresses for an apple-shaped body, figure-hugging silhouettes are a serious no. you wouldn't want anything that displays every bulge and flab you've got going, right? So, look for relaxed fit dresses that would sit loosely on you like a shift dress. If you want a defined silhouette, an empire or A-line cut would be really flattering on you. For accessories, a belt could be your best friend, but we are not talking about the 90s chunky bulky belts. We are talking slim gold accent belts that you can use to mimic an empire waist on a shift dress to create a slimming effect.
What sort of jeans is best for an apple-shaped figure? Well, let' see. You basically are blessed with the ability to wear any and everything you wish to wear really, just not the low-rise jeans or trousers. Skinnies and slim-fit jeans are the best way to highlight your slender legs and to give an illusion of longer legs. Pick a ruffled asymmetrical top with that to camouflage your problem areas. Chiffon or crepe blouses would really flatter you so snag a couple of those for your wardrobe.
Talking about how to layer clothes for an apple-shaped figure, anything that's not too long and end just below your waist is a good idea. Customized blazers and jackets would, of course, look good, just don't get anything too loose because it would just add on more pounds to you.
Styling Tips for a Pear-Shaped Body
Just like the fruit – an apple-shaped figure would have slender top and fuller rear. This means you're more likely to have narrow shoulders, bust and waist, and then well-endowed hips and thighs. This is one of the most common body shapes women generally tend to have and when styling for a pear-shaped figure your focus should be on picking co-ords or two pieces that bring balance and proportion back to your silhouette.
With pear-shaped body, if you strike the right balance with your outfits you can create an illusion of having an hourglass figure and that's all the rage these days. Wrap dresses, princess cuts, or even bandage dresses are your best friends. Since you'd have narrow shoulders and possibly lean arms, you could have a lot of fun with necklines when picking dresses. You can pull off both sweetheart or boat-line styles given you pick the right undergarments. A belt or snitched waist or even a little bit of boning in your dress would really bring out the slenderness of your waist and that would be the perfect way to balance a heavier rear. Don't forget to factor in your thunder thighs when deciding the length of your dress, mid to knee-length dresses usually works great.
Straight cut trousers or boyfriend jeans work well for pear-shaped figures, we would stay away from the skinnies though. Also, the flared pants are really trending these days and they look gorgeous on pear-shaped silhouettes. Tube tops, bandeau, tank tops, crop tops – have fun taking your pick with jeans. You have gorgeous narrow shoulders, flaunt them in off-shoulder tops.
For layering an outfit on a pear-shaped body, kimono styled jackets work well or anything that ends above your waits would add an edge and definition to your look without making you appear boxy or chunky.
Styling Tips for a Carrot Shaped Body
An inverted triangle silhouette or a carrot-shaped body is an exact opposite of a pear-shaped figure. You'd have wider shoulders and bust that would eventually narrow down to a slim frame middle and bottom. Halter necks, spaghetti straps, one-shoulder sleeves – anything that could break down the wider shoulders rather than framing them is your cue to pick it. Go nuts on V-necks, they are exclusively made to flatter your body shape. When picking dresses for a carrot-shaped body, look for prints and patterns that could contribute to striking a balance between your broad shoulders and narrow hips.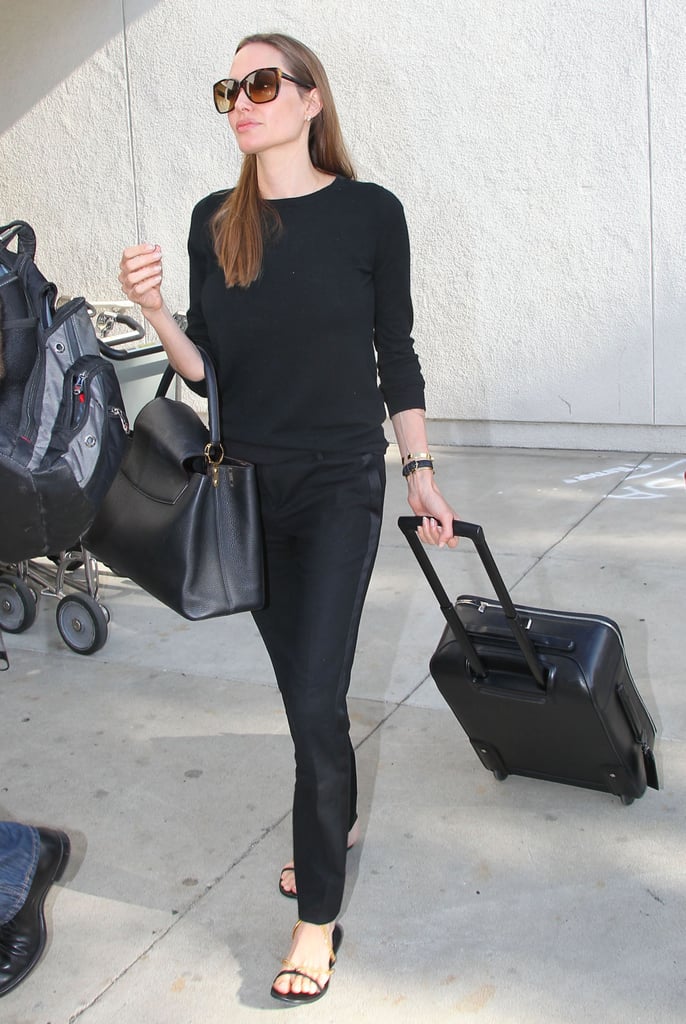 The perfect pair of jeans for an inverted triangle figure would be mid-rise slim-fit style. Just keep your top minimalistic, you wouldn't want too much drama on that portion. Save all ruffles, tassels, flares, and pizazz for below the mid-riff that would flatter your body shape the best.
Styling Tips for a Rectangle Shaped Body
A rectangle-shaped body is what pretty much the name states. You'd have almost equal measurements of shoulders and hips with no defined waist. Style your outfits to create and mimic the curves, definitions, and drama that you want to see in your body. The good thing is, you can almost wear anything you want with a figure like this, just know how to accessorize it well to add more substance to it.
Tube dresses look gorgeous on a rectangle-shaped body. Off shoulder, back V, straps, and lace-up necklines – all of it is going to work on you. Just avoid cuts that are exclusively made to flatter well-endowed bodies such as an A-line. Use strong block colors as your base clothing and then add layers to create an illusion of more defined curves in your body.
A rectangle-shaped body can get away with wearing any sort of jeans they please and possibly any style of the top would work. Structured short jackets would look killer on you. Avoid long duster coats or cardigans, they'll look lost on you. Opt for vests and traditional snug jackets instead.
Picked out for you:
Design of the Day:
Follow Savvy Turtle on Social Media:
What's next? Check out Brand Protection, 3 Reasons Why You Should Write an Amazon Review, and Everything You Need to Know About Savvy Turtle to learn even more about Savvy Turtle.